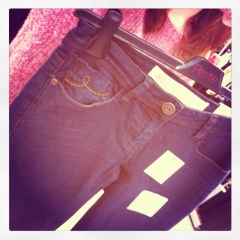 Today on our lunch-break, the lovely Rachel and I went on a two woman one-hour mission to find her the perfect blue jeans. Both being, somewhat, vertically challenged it took some planning.

After scouring t'internet for the first half hour of our lunch break (whilst also demolishing sandwiches - we're great multi-taskers) and browsing their online jeans section, we decided Next was going to be our one-stop shop for finding Rachel the perfect petite-sized blue jeans. After some online research, Next appear to have the largest petite range. Plus, there's a store a mere stone's throw away from MF HQ. Not that we're lazy, it's just time was of the essence.

Now, I've got to admit Next isn't usually my first port of call for jeans but I've got to say I was impressed. There was rail upon rail of every type of jean you can imagine. Skinny, check. Bootleg, check. High-waisted - check. Boyfriend style, check. Corduroy, check. Jeggings, check. Coloured, check. ALL in petite length - which starts from a diminutive 28".

After trying on a few options, Rachel settled on a pair of Skinny Rise Jeans in Blue for a bargain £20. The fit is skinny but not to the point where you're struggling to sit down. The "just because its zips, doesn't mean it fits" shopping mantra was followed and she got a size up from her usual size. They're still snug (good for sucking you in) but the material gives a little too - resulting in both a flattering and comfortable pair of skinny jeans - no mean feat. Kudos to Next.

Finally, the shade of blue is what can only described as a soft indigo which will go with everything and can be dressed up for those "jeans and a nice top" occasions. Rachel is currently working very hard on the website, hence why I am writing up this mini review, but here are her thoughts in a nutshell...
"They fit you like skinny jeans should but you don't need to be stick thin to do them up".
Well said, Rach.
So to conclude, a very good buy that was found in under an hour. Mission completed - huzzah!
If you struggle to find jeans then we'd definitely recommend Next as they cater for both petite and tall ladies.
Anushka x