Treat neglected toes to a free pedicure by doing it yourself. We all love the luxury of a professional treatment but you can save money by going it alone. Follow our step-by-step guide to creating a professional pedicure – for free!
Read our step-by-step guide on how to do a free DIY pedicure.
Remove, Trim and File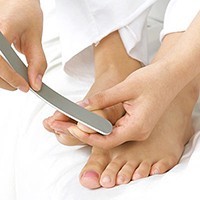 Begin by getting rid of any old nail polish with a moisturising nail polish remover -ones with Vitamin E will help prevent brittle nails. Use an old flannel, instead of costly cotton wool pads, as not only will this save you money but the thick towel texture works wonders in shifting stubborn nail polishes. Try it!
Top DIY Tip: Not wearing nail polish? Still give toenails a quick rub of remover to lift any dirt or grease. This little trick will give you a cleaner base -helping nail polish glide on.
Next, get out your clippers and trim toenails straight across. Professional manicurists usually leave around 1-2mm of white nail. An error most people make is cutting right down to the nail bed, which can cause ingrown toenails. Don't be tempted to hack off your poor pinkie toenails either – it's a clear tell-tale sign of a shoddy pedicure.
Top DIY Tool: Tweezerman Combo Clipper £14 offers precision cutting, a lifetime guarantee and also have a built-in bin so you don't have to inspect the carpet for any toenail remnants.
Finally, file your toenails to your preferred shape but for a professional finish keep it square with the corners lightly rounded off. Use the 'short, short, long' technique -using two short strokes to file down and a long stroke to shape the nail around. File in one direction, avoiding going back and forth as this weakens nails and encourages splitting.
---
Soak, Exfoliate and Scrape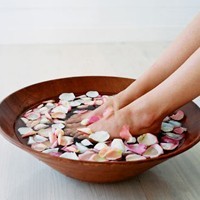 Rest your feet in a large bowl of lukewarm water and add a few drops of your favourite essential oils or bubble bath. A top pedicurist once told us to fill a foot bowl with different sized marbles and lightly roll feet against them for a relaxing, massaging effect.
Refill the bowl with fresh water and put on some exfoliating gloves, the cheap 99p ones you get from supermarkets work a treat, and gently massage a scrub into your feet. You can also use an old toothbrush to lift any flaky skin between your toes.
Rinse feet and use the hard tip of your towel to rub around toes, gently removing dead cuticle skin.
Top DIY Tip: Skin specialists Soap & Glory recommend rubbing half a lemon onto feet and leaving to dry for 10 minutes. They claim the lemon helps dissolve dead skin cells, making it easier to remove.
Next, take a foot file and scrape away at your heels and sides of your feet, in one direction. Going back and forth, in a sawing motion, will just press dead skin back in again.
Top DIY Tool: If you have particularly stubborn skin then No7 Perfect Pedicure £14.67 is an all-in-one electronic gizmo that has pumice, file and buffer attachments to effortlessly churn away at dead skin. It's a must-have tool for recreating a professional pedicure.
---
Moisturise and Massage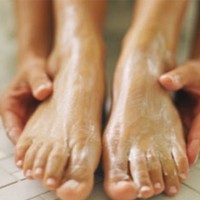 Wash feet and lightly pat them dry. Leave slightly damp and massage in a good moisturiser.
Top DIY Tip: You can do the tried and tested socks overnight method but for a quick moisture fix wrap cling film around your feet. Leave for 30 minutes then unwrap for buttery soft skin.
If after a long day your feet need a good massage but there's no one around to do the honours dig out a golf ball. Place it on the floor beneath one of your feet and revolve it back and forth for 30 seconds. Give it a go – it's surprisingly relaxing.
Top DIY Tool: The Opal London Active Remedies Foot Massager £7 is an easy-to-use massager which can be positioned on the floor to gently stimulate circulation. Just run your feet over the wooden beads to relieve tired feet.
---
Prep, Paint and Polish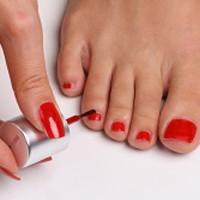 Rub a good cuticle cream into cuticles and toenails, taking time to massage into the corners. This is an essential part of a pedicure as you want to dissolve any excess cuticle skin -the prime suspect for making nails look unkempt. Grab a cuticle stick and gently push them back in a circular movement.
Top DIY Tip: Haven't got a cuticle stick? You can push back cuticles with anything that has a similar flat surface - like a pair of tweezers.
Smooth nails with a buffer but if you're feeling lazy you can get away with applying a base coat so polish glides on. Grab your favourite nail polish and roll the bottle between your hands – this well help the varnish spread easier. Don't be tempted to shake it as this creates lots of little bubbles that will rise once your polish dries.
Apply two thin coats using long strokes to spread the nail polish evenly. Keep a Q-tip, soaked in nail polish, on stand-by to quickly remove any over-spill.
Top DIY Product: 17 Nail Xtras Glossy Top Coat £3.99 is an affordable topcoat that creates a hardwearing, high gloss finish. It helps set nails and dries within a few minutes.
Finally, give your toenails a quick blast of the hairdryer to help them set.
---
"Et Voilà! A professional looking pedicure for free."
---