It might seem a bit too early for this but can you believe Christmas is only 12 weeks away? If your festive funds are looking a little light, join the club! This time of year is stressful for many of us, particularly when you're on a tight budget. It's never to early to start finding ways to save for the big day.
Festive spending can quickly spiral out of control, and can have a negative knock-on effect on your personal finances year after year, but if you can make a few simple changes during the weeks leading up to the big day, you can avoid the huge financial hangover in the New Year.
Looking for a good place to start? I've found plenty of ways you can sprinkle your Christmas fund with some seasonal cheer, from bagging local bargains, to making alternative decorations, you can have the best (and cheapest) Christmas yet!
Set some Christmas ground rules

Create a budget
Did you know the average spend per household is around £800 including food presents, travel and decorations? That's insane! Get a headstart on your spending now by grabbing a pen and paper and drafting a rough budget. Consider things like how many people you are planning to buy presents for, if you're hosting dinner and if so, for how many people.
If you need some help, The Money Advice Service have a great Christmas Money Planner tool that can help establish what you currently have, how much you can save before Christmas, and how much it will cost overall.
Shave that budget down
Yikes! Have you already mentally spent way more on paper than you thought? Don't worry, it's challenging but you can always find ways to cut this down. Perhaps you can find cheaper alternatives on your regular Christmas shopping list? It's all about cutting back and creating some healthy new traditions at this stage, which will be tough but I believe in you!
Establish where your Christmas fund will be kept
Are we talking spare change in a coin jar? Or are you in the process of setting up another current account to deal with Christmas funds? Whichever category you fall under, make sure your family and friends are on board and support you in building your Christmas funds in the coming months.
Presents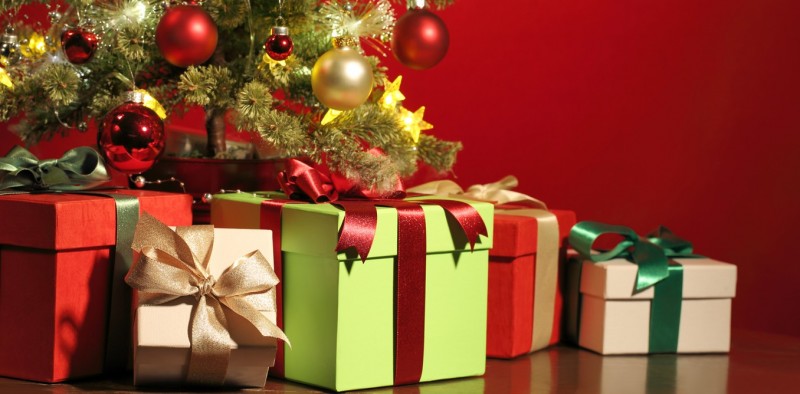 If you're anything like me, you're likely a bit of a martyr when it comes to Christmas shopping, and by that I mean you love buying for everyone else. This isn't healthy for your funds at all, and you can quickly end up buying for every man and his dog! Here is how to cut the most expensive part of Christmas down.
Save it for later
f you're shopping online, did you know you can register your email and save the items in your basket for later? Shops like Asos and New Look tend to then email you a follow-up email with some emotive plea like 'did you forget this?' and even send you a discount to encourage you to go back and check out. Chances are, you'll fall for it anyway so the discount definitely helps.>
Sell on unwanted goods...
If you've been the victim of a hideous gift (like an ugly china dining set or a cheap fragrance) great news! You no longer have to grin and bare it. Instead, just flog it on eBay, Gumtree or a local Facebook group. Expert Home Tips have a great blog post on How to sell your things on eBay. The extra cash will make a great contribution to your Christmas fund.
You're not limited to selling old or unwanted gifts either. You can, for example, make money from your unwanted CDs, DVDs, games, technology and electronics, and even your clothes, by selling them on a site such as MusicMagpie.co.uk
If your stuff is in bad condition, you can always just give it away to charity or list it on Freecycle.
...or wrap them up as gifts
If selling your stuff sounds like too much of a hassle, you can always pass along the gift yourself as Christmas present for someone. It will save you time and money and you'll be decluttering in the process which is an all round win. Just remember who gave it you and who you're passing it on to!
Set up a Christmas cupboard
Collect Christmas goodies as you go throughout the year so it doesn't hit your bank balance all at once when you're in a panic towards Christmas. Have a designated cupboard for wrapping paper, cards, presents, etc. Make sure to keep checking back there so you're not buying double of everything, and keep nosy family members away!
Secret Santa to save money
Instead of forking out hundreds on presents for everyone, why not treat each other to one present in a game of secret Santa? It's not just for the office, and many families now opt for this cheaper option. Everyone gets to feel special and it saves so much money, hurrah
Get paid to shop this Christmas
For those who prefer to do their Christmas shopping at home, there are ways to earn cashback from your online purchases. Using a cashback website such as Quidco.com or Topcash-back.co.uk is easy. Create an account and use the site to access high street and online retailers. When you buy your gifts you will receive a percentage of the value of your shopping and the cashback will be paid directly into your account.
Many credit cards also pay up to 5% cashback on your first 3 months' spending (max £100.) Apply soon and you'll get to take full advantage during the Christmas period. Just make sure you read T&Cs!
Save money on Twitter
Social networking sites are good for keeping in touch with friends, but they can also be used to save money, especially throughout the Christmas period. Type in "money saving" or another frugal term and connect with those who share their cost-cutting tips. Ones to watch for sales hints and money-saving tips are @pennygolightly and @moneymagpie.
It's also worth following big retailers such as Amazon, eBay and Debenhams to name a few, as they often tweet about the latest deals available on their website or in-store and offer exclusive discounts on these channels.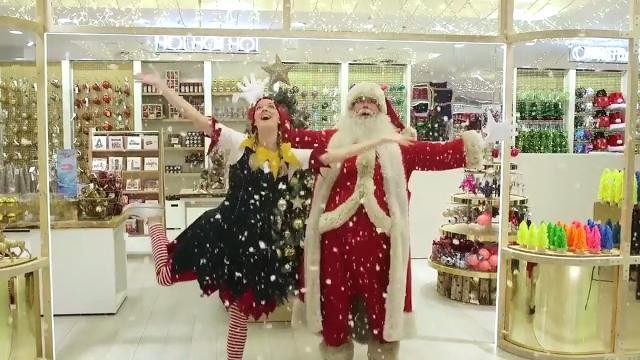 Stay loyal to your loyalty cards this Christmas
Make sure you are using your Boots Advantage Card or supermarket loyalty cards in the run up to Christmas for weekly household necessities such as toothpaste, food shopping, and baby products to bump up your points so you can use them to buy presents. Look out for special 'double points' promotions too. Many stores like Tesco and Morrisons have frequent incentives in the run-up to Christmas so take advantage of earning points and you might cash in on your Christmas food shop.
Check eBay and local Facebook groups first
Facebook groups and websites like eBay and freecycle.org have local groups and local collection options which could be your saving grace this Christmas.
With thousands of items from Christmas decorations to unwanted gifts, Freecycle list hundreds of items right on your doorstep and if you dig hard enough on social media or even at local car boots, you might just find some freebies or certainly discounted deals to help you save.
From the essentials to desirable luxury items, you could grab yourself a bargain.
Get a free letter from Santa
Wow! A real letter from Santa? Can you imagine the look on your child's face? Priceless. Find out how to get a Free Christmas Letter from Santa and order your free Christmas letter.
Visit outlet stores to save money
There are multiple fashion outlet stores all over the UK including Clarks, M&S and more which all offer discontinued items at a price that suits your budget. You can even hunt these brands down online, as many of them have outlet stores on eBay such as Boohoo and Argos. Find some great deals and make everyone happy, including your bank account. Skint Dad has a great list of Outlet stores you can find on eBay.
Save money & grab end of sale bargains
Plan in advance and shop end of sale bargains around September and October. Lots of places have continuous sales but a lot of places are keen to get out of season or untrendy items out of the way before the Christmas rush so that is the best time to shop if you want to get the best price. This is great for finding your gifts but also for hunting down your perfect dress for the office Christmas party.
Beat the postman on price this Christmas
Use eCards instead of paper Christmas cards. You can send hundreds of cards for free without forking out for cards and stamps and you can even personalise them with photos, perfect.
Dinner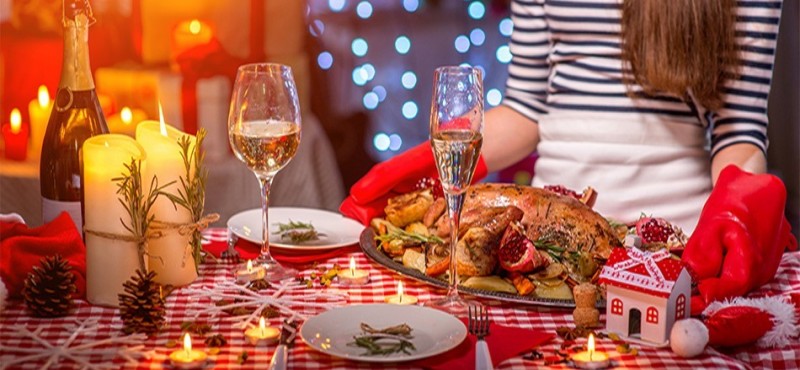 We love a good Christmas dinner! Well, we love eating it. However, preparing it is a different story altogether. If you've been selected as the lucky one to host this year, you might be worrying about costs. Fear not, there are plenty of ways to cut down and save when throwing your Christmas bash.
Potluck / Bring a dish to dinner
If you're hosting this year, why not ask everyone to chip in and bring along their favourite Christmas dish? You can provide the basics and set up the table and everyone will have more than enough to eat. It's a great alternative to spending more and you'll have lots of leftovers, yum!
Downsize your turkey to save money
Don't be a turkey snob! So many people put emphasis on the turkey as the centrepiece of the day but when it comes to food and the turkey specifically you can definitely be frugal and festive this Christmas. Check out this Turkey Comparison Chart which compares the prices of fresh, frozen and premium turkeys from all the top retailers and gives you an idea on where to get the best value for money for your big feast.
It might be worth checking if you even need a full turkey. A crown or pre-packed turkey breasts might be a cheaper option depending on the size of your family. If you have leftovers, there are some amazing Turkey Leftover recipes.
Consider other meats this Christmas (or go vegetarian)
Chicken is a great alternative to turkey and is a crowd pleasure for most. If you fancy something different, have you considered duck or salmon? Going meat-free is an even cheaper option and those lovely Christmas vegetable favourites are just coming into season so we'll see them creeping into our supermarkets.
You can also get quite creative with vegetables and make a lot of cheaper alternatives to meat. These options are cheaper if you buy them in advance and they will make your Christmas meal memorable.
Choose the buffet option to save money at Christmas
I'm just going to come out and say this one, buffet. I know, I know, going without a sit-down meal and skipping all the trimmings can seem like a crime, but a buffet option might help your wallet. Again, if everyone chips in that's even better! Plus, if you paper plate it, you can just bin everything after. If no washing up isn't motivation enough for anyone I don't know what is.
Save money & snip supermarket coupons
We're big fans of coupon here at Magic Freebies, and we're definitely waving the pre-Christmas couponing flag. If you start collecting coupons now or ask for stamps in shops like Morrison's, you can get exclusive discounts on your big Christmas food shop. Check out these 5 tips for Couponing to help you get started. Don't get conned into fad Christmas deals either, find out how to Save money at the supermarket.
Buy now and freeze to save money on your Christmas shop
Freezing food is essential if you want to save money over Christmas. Buy all your vegetables and meat now and freeze it in advance. It's tough if you don't have enough space but it's the easiest way to save money if that's your priority this Christmas. Find out more Top ways to save money on food.
Decorations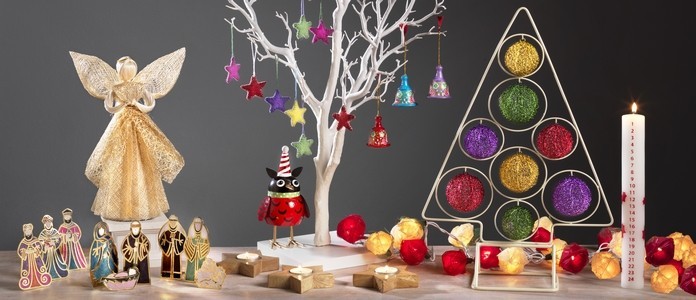 Making your house look all pretty and festive doesn't have to cost a fortune. Check out these top ways to cut back on decoration costs.

Make your own decorations to save money this Christmas
If you're looking to buy new decorations this year, have you considered making your own? There are so many tutorials online and you can really get creative with your craft skills. Get the kids involved as an enjoyable way to keep them entertained over the festive season and once you've created your masterpieces, you can look back and actually see the work you've put in and be proud of your decorations.
Save money & buy a fake tree
Why would you spend so much money on picking up and disposing of a real tree that ruins your floor every year? It's so much more cost-effective to purchase a fake tree that you can pop in the loft and pull down for years to come. Once all your decorations and tree lights are on, you won't even be able to tell the difference.
Have a refillable Advent Calendar
Have you seen those homemade, refillable calendars? They look super fun! You can choose what you want to put in them every year and they work out cheaper than buying chocolate ones year after year. You could even choose a theme like nail polishes or sweets. How exciting!
Buy cheap and reuse to save money
Don't buy luxury decorations from unique and expensive Christmas shops, many supermarkets and DIY stores stock big boxes for less. Buy in bulk and be sure to reuse each year rather than being tempted to buy again.
Transport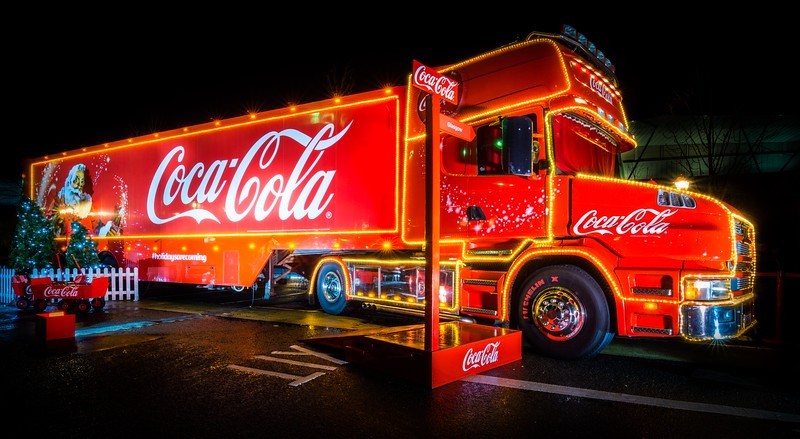 Travelling during the holidays is so stressful, but it's something that most of us will have to endure year after year. So if there's any way you can save money, that's a bonus, right?
Book train tickets early this Christmas
Did you know you can book train tickets up to twelve weeks in advance? Hurry, though, these cheap seats tend to vanish quickly around the festive period.
Save money & drive home during the early hours
This is something my partner and I tried last year and it worked like a charm. If you don't mind getting up in the middle of the night, instead of travelling home at the same time as everyone else, why not pack up the car in advance and travel in the night to avoid traffic and save money on fuel?
It will also reduce your stress of being sat in stationary traffic massively! If you're travelling home via other means of transport, pick unusual times to beat the rush.
At home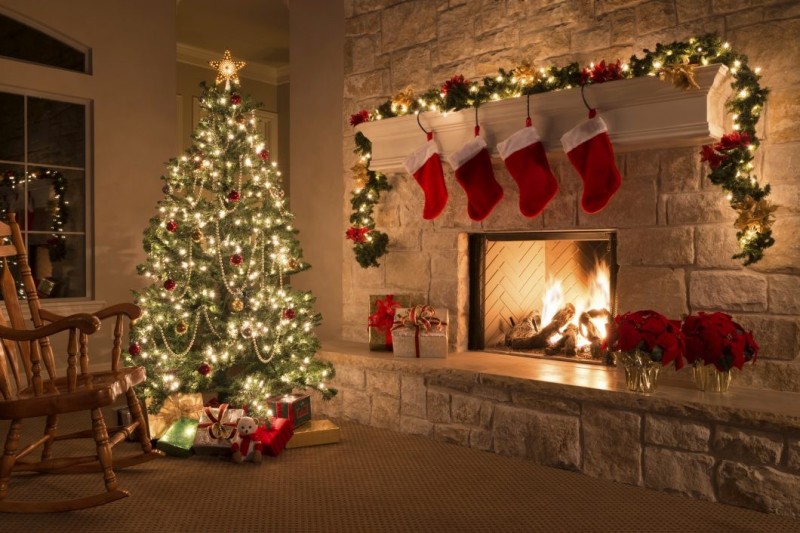 Switch your energy provider to save money
If you've stuck with the same provider for a long period, chances may be you are not getting the best value for money. Sites like uSwitch and Compare the Market can help you find the best deals (just make sure you tick all the relevant boxes) then call your supplier to see if they can match or better the price. You could easily be saving up to £300 per year and if you're uncertain there are loads of guides available online to help you switch effortlessly.
Save money & check your policies
A third of all freezer claims happen over the Christmas break. Dig out your home insurance documents and check whether you have freezer cover, which makes sure your goods are insured in the case of a power cut or freezer malfunction!
Claim free loft insulation this Christmas
Energy firms face sanctions if they don't meet Eco quotas, so some companies, e.g. British Gas, give free insulation to anyone in England, Scotland or Wales with a suitable home (you don't have to be their customer or on a low income). Have a google and check to see if you're entitled this winter.
Turn it down and save money
Keep your energy bills down and turn off fairy lights when you go to bed and turn your thermostat down if you've got a house full and the oven on full pelt. Turning down your room thermostat by one degree saves around £55 a year.
Wow! That's lots to take in, but hopefully, you get the idea and can start to adjust your previous expensive Christmas traditions and start to make cheaper ones just in time for Christmas this year. If you have any ideas of your own, please get in touch below!
Collette xx