I previously shared ways to earn money from a spring clean and scanning receipts was one of my top tips on how to make money decluttering. Now I'm going to help you earn money just by scanning your receipts!
Receipts are always a useful thing to keep to double check you haven't been overcharged and are always handy to keep in case we change our minds and wanted to return or exchange a piece of clothing, but what if I told you that you could also make money scanning your receipts? Let me explain…
There is an amazing app out there called 'Receipt Hog' and the folks over there want your receipts, and they're willing to pay! If you don't use them, you're basically throwing money away every time you bin a receipt! No doubt with the kids off school you will be making plenty of trips to the supermarket and other places with the kids, so why not save your receipts and use this fabulous app to make some money? Don't worry, I'll talk you through it.
What is Receipt Hog?
Receipt Hog is hands down the easiest way to put some extra cash in your pocket with minimal effort. Feed your Hog receipts and be rewarded with coins or spins for the Hog slot machines, where you can win even more coins. Redeem coins for cash via PayPal or Amazon gift cards - Cha-ching! Unlike other shopping rewards programs, Receipt Hog rewards you for receipts no matter where you shop or what you buy.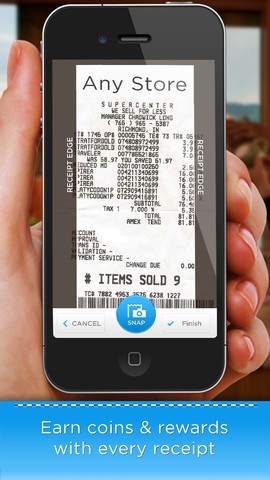 Is it a scam?
Absolutely not! Thousands of people from all over the world wouldn't be using it if it was a scam. I know it's almost too good to believe but you can make genuine money here people.
What receipts can I use?
Receipt Hog accepts pretty much any receipt. You're looking at anything from major retailers, to local businesses, to even corner shops.
Here's some examples of what you can earn coins from:
Grocers and supermarkets

Corner shops and convenience stores

Off licenses

Pharmacies

Cash and carry's

Health and chemist stores

Bargain and discount shops

Beauty suppliers

Pet shops
You can also earn 'hog slots' from places like:
Clothing retailers

Office suppliers

Electronic stores

Home improvement and furnishings

Bookshops

Sporting goods stores

Arts and crafts suppliers

Plus any other store!
Earn sweepstake entries with:
Gas/petrol receipts

Restaurants and bar receipts

Bakery and café receipts
Wow! So it practically is any receipt from any shop. To get more turns on the hog slots, stores like Waterstones, Currys, Homebase, New Look and Ikea are particularly popular.
What needs to be on the receipt?
Any receipt from a store needs to contain what you bought, from where, and what date you bought the items. The date is particularly important as the receipt needs to be dated within two weeks of you claiming coins. Before you get too giddy, there is also a maximum number of receipts you can upload. You can upload a maximum number of 20 receipts every 7 days and only get 3 from an individual store each day. This stops people going crazy and uploading 100 receipts from 5 years ago (not that I've tried...) Smart move, Receipt Hog!
How much can I actually earn?
This is the big question on everyone's mind! Really, it doesn't matter whether you've spent pennies on your midnight grocery haul in the reduced aisle - read our top tips on how to save money at the supermarket, or if you've splurged on your favourite beauty product, you can still earn coins.
Here's an idea of how the points system works:
If you scan a receipt for £10 or less, you will earn 5 coins
If you've spent between £10 - £50, you will earn 10 coins
Between £50 - £100, earn 15 coins
£100+ you will be rewarded 20 coins
On top of all this, you are automatically entered into a monthly sweepstake where you can win up to 5,000 coins - oooh how exciting!
TOP TIP: When you make it to 100 coins in a week, any receipts uploaded after that point will only earn you 5 coins and 1 sweepstake entry. So if you've spent big, it might be worth holding back to scan that receipt the following week.

Can I earn more?
There's lots of little tasks featured inside the app that you can complete to earn extra points.
Some of these include:
Linking to your email - 100 coins
Linking your Amazon account - 36 coins
Connecting the app with another user in the household - 40 coins
Connecting with Facebook - 6 hog slots
What are hog slots and sweepstakes?
In some cases, instead of coins you can be rewarded with an entry to the 'hog slots' which has us very excited. This is just like a casino wheel that you can earn bonus coins by playing with your hog slots. Every day, one person can get their last shopping trip paid for! Imagine how awesome would it be if someone paid for your weekly shop or impulsive TV purchase last weekend.
The more receipts you scan and upload, the more levels you move up and receive more bonus hog spins. You can also win big on monthly sweepstakes, where you can win prizes and extra rewards. You are automatically entered into the sweepstake when you scan your receipts.
Most importantly, when can I cash out?
You need you need to stack up your coins by quite a significant amount before you can cash out. Want to know how much your points are worth?
Here is the low down, you can choose to receive payment either via PayPal or Amazon vouchers:
PayPal
£5 – 1,500 coins

£10 – 2,850 coins

£20 – 5,300 coins

£50 – 12,000 coins
Amazon vouchers
£3 – 1,000 coins

£10 – 2,850 coins

£20 – 5,300 coins

£50 – 12,000 coins
Ok, all sounds great - so how does it work? Let me show you.
Step 1 - Go shopping as normal and don't forget to keep your receipt!
Step 2 - Open the app and click 'snap first receipt'
Step 3 - Take a photo of your receipt. Is it really long? Don't worry - take up to 9 photos in one claim
Step 4 - Fill in a quick and easy survey on your shopping trip experience (literally who went and how you rate your visit)
Step 5 - Sit back and relax and wait for your receipt to process (usually within the same day) and don't forget to turn your notifications on for Receipt Hog. It's easy!
So there you have it, if I can use Receipt Hog - anyone can! It's free, simple to use and can earn you quick cash - what's not to love? If you are a convert, don't forget to use referral code: skog8695 to earn us both extra spins.
Enjoy folks!
Collette xx