Need some spare spending power, or simply fancy some new clothes?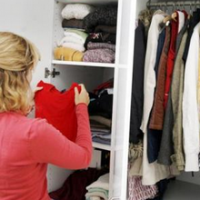 A lot of people are searching for a way to make extra cash these days. If you're one of them, you might find yourself scouring help wanted adverts for odd jobs or asking around for a part-time gig. But you could find just what you need by looking a little closer to home--or in your home, actually.
Clearing out your house can be the perfect way to make cash; it also serves the purpose of tidying your home to make room for new items, which gives you more than one excuse to pare down your belongings. The potential for selling unwanted things is vast, and in order to be successful, you'll need to know where to start. Here are a few tips.
Out with the old, in with the new
A common starting place for people who are looking to bring in some extra money is clothing. Vintage shops are a great place to sell your unwanted clothing, accessories, and jewellery. What's even better is that you know your clothing will find a good home (instead of being thrown in the dumpster) and you could even get store credit in exchange for your goods, which will come in handy if you're a vintage lover yourself.
That's entertainment!
Entertainment items are often overlooked when it comes to making cash, but this can be a goldmine. If you have unwanted or unused DVDs, CDs, or even videogames, turn to the Internet to help you sell them. Popular sites like Gumtree or Ebay can help you easily get rid of these items for a profit, and all it requires is setting up a personal account and uploading some information about your items. Once you receive interested buyers, however, you'll be responsible for shipping the discs to them.
An easier way to sell discs is to use a buyback service that enables you to sell your CDs, DVDs, or games in bulk. For example, MusicMagpie is an online service that is a one-stop shop for users selling DVDs online for cash (or CDs and games, if you have them). This site buys discs in bundles and even takes care of the shipping for you.
Be honest with yourself about what you really want to keep
If you're an avid reader, you can even take things a step further and make money by selling your old books. These may not be as easy to get rid of as your digital items, but using a user-driven selling site like Amazon gives you a way to provide good books to other readers at a discounted price. You may also consider taking all of your old books to a used bookstore, which gives you the benefit of being able to negotiate a price for your literary gems. And don't forget about those old university textbooks, which are far easier to sell if you contact a nearby post-secondary institution..
Technology is your friend!
Gone are the days when people had to plan rummage sales and devote an entire weekend to selling all of their old hand-me-downs. New technology has made earning cash from your unwanted pieces a breeze. In fact, you might even consider doing it on a regular basis just to keep the house neat and orderly and maintain a steady flow of regular income. Clearing out your house is the perfect job because it allows you to work for yourself, control the inventory, and reap all of the returns.
This article was written by guest writer, Michael Edmondstone. You can find his personal site at MichaelEdmondstone.blogspot.com