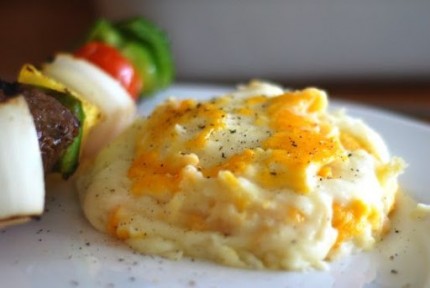 Whether you like sausages, chicken or vegetarian Kiev this delicious cheesy mashed potato will be an excellent addition to your evening meal.
Utensils needed:
saucepan
kettle filled with boiling water
cheese grater
potato masher
Ingredients:
900g Desiree potatoes
112.5ml milk
12.5g butter
100g strong grated cheddar
nutmeg (for grating)
salt and pepper
How to do it:
Step 1.
Peel the potatoes in water and then give them a quick wash. Cut them all into equal sizes - this is important, as it means the potatoes will cook at the same time. Bring to the boil and then simmer until tender - this could take up to 15 minutes or a little longer. Preheat the oven to 180°.
Step 2.
Drain and put the cooked potatoes in hot oven to dry out and then put them back into the saucepan. Mash well with the milk, butter and cheese. Grate some nutmeg over the top.
Step 3.
Season with salt and pepper and serve immediately.
I hope you like this recipe Freebie Finders! Let me know how it turns out. Remember, if you like it cheesy - just add more cheese! - Colleen x