Charity shop chic: Scour the second hand rails…
Can't afford to go clothes shopping? We hear you, times are tough and everyone is trying to make their pounds stretch – but cutting costs doesn't mean you have to compromise your style! Frugal fashionistas are flocking to charity shops to scour the second-hand rails for hidden treasures.
Join the revolution and you too can save money and bag some designer bargains. We warn you it can be difficult to see beyond the rails of stuff, so don't go shopping before reading our guide to charity chic…
Visit posh postcodes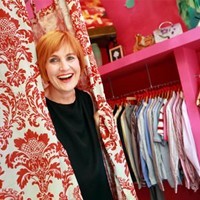 Shopping in affluent areas can almost guarantee high-end labels and luxury materials like cashmere, silk, linen and pure wool. You'll be surprised what designer cast-offs you can pick up for a fraction of the original price.
For fashion gems shopping guru Mary Portas recommends the British Red Cross off the King's Road in London and Barnados on the London Road in Manchester but it's worth researching the locations of posh charity shops as you could find never-worn-before designer clothes and accessories.
Vist Barnados » www.barnardos.org.uk
Visit British Red Cross » www.redcross.org.uk
---
Look for staple items and classic accessories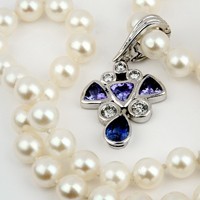 Don't expect to find all the latest trends in your local charity shop, adapt your shopping eye and look for classic styles - the perfect little black dress, string of pearls or elegant clutch bag will never date.
You can also find great office wear in second hand shops. You may not find the variety of styles found on the high street but older clothes have a better fit and quality. A well-cut blazer or pair of trousers will last you a lifetime.
---
Become a regular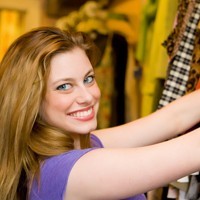 Bargains inevitably get snapped up so if you only visit every couple of weeks you'll end up seeing the same leftover stock.
Popping in for a five minute browse every few days will mean you are more likely to spot any hot new items.
It's also worth noting most people donate over the weekend and it takes a day or two for staff to sort through new items. Visit first thing Tuesday for first dibs.
---
Inspect for damage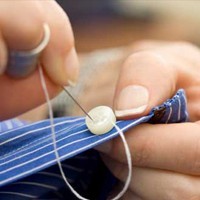 Before you buy, check for broken zips, holes and missing buttons.
Minor damage that could be fixed easily may still be worth the buy, but if it needs professional help then the cost may be more than the product itself.
The same applies for shoes, check they don't need to be re-heeled as it may not be worth the added expense.
---
Make friends with the staff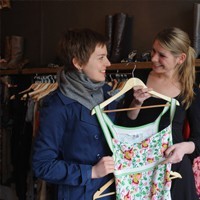 Get friendly with the assistant and let them know what type of items you're looking for as some shops are known to call you when something great comes in.
If you're after something specific then don't be afraid to ask as they may have exactly what you're looking for tucked away in the stock room. If you ask nicely they may even let you have a quick browse – the worst they can say is no!
---
Think and buy ahead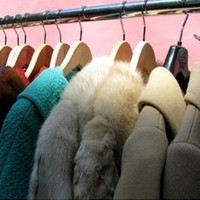 People often donate out of season items that are taking up space in their wardrobe, so you'll often find scarves and knitwear in summer and swimwear and sandals in winter.
It's easy to overlook items you don't immediately need but if you think outside of the season you could save money on expensive items, like coats.
---
Check the care labels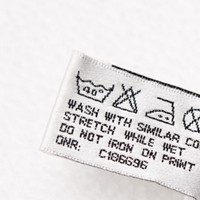 Always look at the care label inside clothing, if it is dry-clean only then consider the extra costs before you invest. If you're after vintage pieces, they may not have care labels so be sure to ask the shop assistants for advice.
A top tip for identifying the age of a product is the zips - metal suggests vintage whilst plastic screams modern.
---
Try before you buy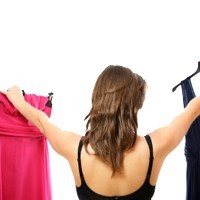 A charity shop may only offer a small makeshift changing area but don't let this put you off trying it on. Most charity shops don't offer refunds so don't waste your money by guessing whether it'll fit you.
Clothing sizes have drastically changed over the years, so don't expect older items to be true to size.
---
Unleash your inner stylist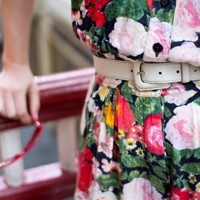 Be prepared to rummage and think outside of the box. You could transform a simple cotton top with the right accessories; cinch a shapeless dress in at the waist with a belt or up-cycle a jacket with new buttons.
Don't forget to prioritise size, style and material but with a little creative thinking you could fulfil the hidden potential of a bargain buy.
---
Don't be afraid to haggle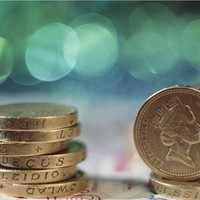 If you've got your heart set on an item but feel it's slightly overpriced it's fine to ask for a reduction, but explain your reasons and be graceful if they refuse.
You'll find there is more room for negotiation in privately owned places rather than high street charity shops - but it's always worth asking.
---
Buy something special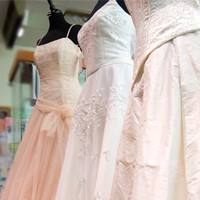 If you're willing to buy second hand for your special day then you could snap up a discount wedding dress. Visit Oxfam's Online Shop to kit out your entire bridal party or visit one of their eleven bridal departments, across the UK, to try on dresses and ask for specialist advice.
Some items are donated by designers so you could end up buying the wedding dress of your dreams – for half the price.
Visit Oxfam's Online Shop » www.oxfam.org.uk/shop/bridal
---
Stay at home and click online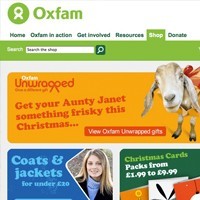 If rummaging through charity shop rails doesn't sound like your cup of tea then why not peruse the second hand treasures from the comfort of your own home?
All the major charities have their own online shop with photos, measurements and detailed descriptions of items.