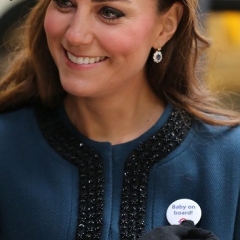 Wow, a freebie seen on Kate? Get your free 'Baby on Board' badge today!
Are you a mum-to-be? Did you know you can get a free 'Baby on Board' badge so fellow passengers will know that you may need to sit down?
Even Kate has her very own 'Baby on Board' badge! The Duchess of Cambridge was given the badge at Baker Street Tube station to celebrate the 150th anniversary of the transport network. Read about it here.
So how did the 'Baby on Board' badge come about? Research was undertaken and it was found that pregnant women sometimes felt awkward or uncomfortable in asking for a seat. It was also found that while commuters were happy to offer their seats to pregnant women, they felt embarrassed if their offer was rejected.
There are a number of ways to get your free badge:
head to your local Tube station ticket office
contact Customer Service Centre by e-mailing babyonboard@tfl.gov.uk
call 0843 222 1234
You can find out more here.
Colleen x