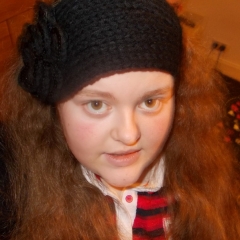 We want to find out more about our Freebie Finders, so we will be conducting a series of interviews which we will feature in our blog!
Today you will meet Annelouise, our Freebie Finder of the Week. Annelouise was picked because she is always friendly to everybody on the MagicFreebiesUK Facebook page. We had to find out more!


Hello there! What's your name and where are you from?
Hello :) my name is Annelouise and I am originally from Northern Ireland but now live in Ayrshire, Scotland.

How long have you been visiting MagicFreebiesUK?
A year and 3 months.
What has been the best freebie you've received?
The best freebie I have received is the Wilkinson Sword razors… I ended up getting 5 and they were so handy for stocking fillers for Christmas!
But competition wise the best one was winning a massive sweet goody bag from Swizzles Matlow.
What's your favourite part about the MagicFreebiesUK website (apart from the freebies of course!) and why?
I like that they giveaway something every month like the £100 from boots for new fans... I also love that they've changed it and now giving away an ipad2! To be quite honest I love everything.. I love waking up and receiving my daily email!
What's your top tip for new Freebie Fans?
First of all sign up to receive the newsletter and then you'll get an email with all the new freebies every day! Also keep checking the Facebook page every hour to see what other fans have put up, either it being freebies or new competitions.

If you had the chance to give away a freebie, what would it be?If I had the chance to give away a freebie it would be goody bags filled with chocolate! (who doesn't love chocolate!)


Thanks for taking your time to let us interview you Annelouise, and thank you for being so friendly on the MagicFreebiesUK Facebook page!
Colleen x