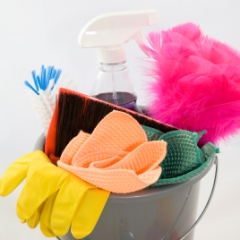 Here at MagicFreebiesUK we are always trying out different cleaning tips that help both save money and make life easier. We've picked up a fair few along the way, so we've compiled a list of our top five...
1. Lift Stains with Lemon - As we all know lemon is a natural bleaching agent, so squeeze over and let it dry in the sun. It works better than most stain removers and is cheap as chips.
2. Keep TVs Dust-Free - Fabric Softener is great way of reducing the static cling that attracts dust to your television. Pour a small amount onto a soft cloth then wipe over your screen and stand.
3. Microwave Quick Clean - Cleaning the microwave is always a chore. Clean it quickly and efficiently by placing two cups of water in the middle and cook on high heat for 5 minutes. Wipe down with a sponge. The moisture will help stubborn stains glide off.
4. Unblock a Kitchen Sink - Have you got a pesky blocked pipe? Clear it by dropping two Alka Seltzers down the drain followed by a cup of water. Leave for five minutes then run the hot water tap - a quick and easy way to unblock!
5. Keep Taps Sparkling - Take a balled up piece of tin foil and use it to scrub your chrome taps and appliances. Remember to use the shiny side of the foil!
Anushka x