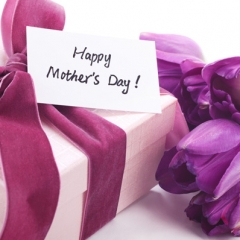 If you need some ideas for Mother's Day then we've got a few for you. If you're a mother, why not share this with your partner so they can get some tips!
Cheap day out
Why not visit out Cheap Days Out page to see if there's a free or cheap day out near you - raid the fridge and make a picnic!
Make a mixtape
I suppose it is 2013, so a mixtape could be replaced with an MP3 CD or playlist on her iPod... still, you get the idea! You could make a specific playlist for her trips to the gym or to work - mums are often busy and wouldn't have the time to create special playlists for themselves.
Plan an in-house spa day
Make up a list of all the relaxing activities you can provide - pedicure, manicure, hand massage, facial, bubble bath, foot bath - there are loads of treatments you can choose. Why not have a look at our Olive Oil Beauty Secrets for some tips? Throughout the day, offer your mum some delicious cucumber water and fruit slices. She'll love it!
Personalised art
Give the kids a canvas and let them create whatever they want for their mum - this could be hand prints, a painting - anything! Just make sure you keep an eye on them - poster paints may be a better idea for younger children.
Take her for a meal
Have you checked out our Restaurant Vouchers page recently? There might be a fantastic deal on in a restaurant near you and you can take your mum out!

Colleen x