Loyalty schemes are amazing new incentives from supermarkets and popular brands to help you save money on everything from supermarket shopping to clothes, eating out, beauty products, coffee dates and more! Many even offer birthday rewards for free.
Did you know 9/10 people in the UK now hold some form of loyalty cards? But there are still those cynics out there that are convincing themselves that these cards are a waste of time and that drives us crazy here at Magic Freebies because there are so many benefits from signing up for these loyalty schemes. Here are some myths we're debunking when it comes to Loyalty Schemes.
Myth 1 - You have to spend a lot to get a little
First things first, did you know signing up for a loyalty card doesn't cost a penny? And the best thing about them is a lot offer welcome gifts when you sign up. Greggs are currently offering a welcome hot drink when you download their loyalty app, and 'My John Lewis' loyalty scheme offers free cake and coffee every month and all you need to do is sign up for a card for free.
When you sign up for loyalty schemes, you are also usually getting the first look at all the best new offers in store or online. So if anything, you are saving money with discount offers and still receiving full reward points which tend to add up quickly, especially on supermarket reward cards.
Myth 2 - Your points aren't worth anything
The common misconception about these cards is that they sit in our purses and wallets and don't earn us anything tangible. Well, if you never use them, you'll never know! Just because we can't see the points, doesn't mean they are worthless. They are adding up every time you use your cards and places like Tesco reward you with experiences like Pizza Express and Cineworld vouchers, amazing!
Money Saving Expert has created a brilliant tool where you can check your current points on pretty much every loyalty scheme in the UK and how much they are worth.
Myth 3 - Your vouchers expire too quickly
It's heartbreaking when you finally sift through your post or emails and find those vouchers have expired. While it's not necessarily a myth that vouchers do have a fairly quick expiration date, there is a way to gain back up to TWO years of unused vouchers with brands such as Tesco. They also allow you to claim lost vouchers too which is very useful if you throw away your vouchers by accident. In your Clubcard account, click on 'my vouchers' on the left-hand side and you should see a table listing the vouchers you still have to spend.
On another note, loyalty cards like Ikea's 'Ikea Family' have fixed normal prices and discounted 'family' prices all year round which range between tens to hundreds of pound's difference in price and you can even treat your whole family to a hot drink after your adventure around the store just with one card.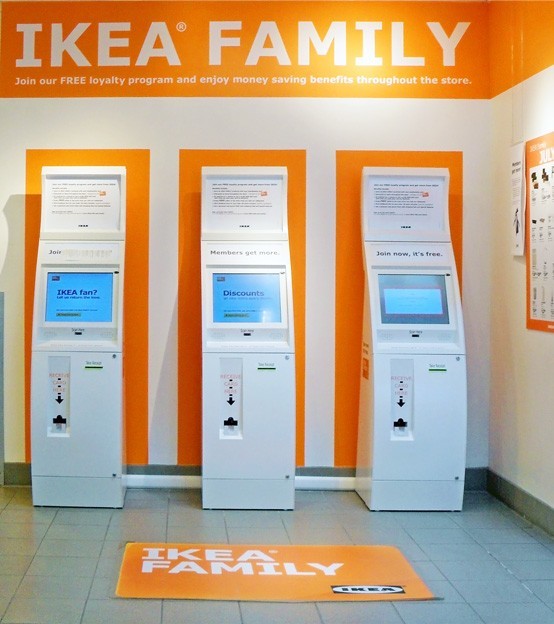 Myth 4 - The offers you receive aren't relevant to you
If you feel you are being short changed with your offers from these items, think that these schemes only exist and excel because they learn so much about your shopping habits and tailor your coupons, and in return, they are allowing you to redeem points for a huge variety of products including groceries, holidays and days out. Personalised offers from brands include Marks & Spencers 'Spark' Card that tailors your points to your spending habits in store and online.
Myth 5 - It's all a con to get you to spend more
The most important thing to remember here is that loyalty cards work for both companies and consumers. These are items you are buying anyway, days out you would spend double on, or make-up you would splurge on eventually.
They are helping you by rewarding you for buying these items anyway so that they can improve their offering for other consumers who have purchasing habits similar to yours. So if you buy an item now with your rewards and it gets discounted in the future, surely that's a win, win – right?
Myth 6 - You can only earn points on shopping
Yes, a lot of loyalty cards are related to shopping schemes but reward schemes like Morrisons 'Match & More' and Nectar Points enable you to earn points on your energy bills and when filling up petrol, as well as mobile phone contracts and even current accounts. So basically, you're being rewarded for living your everyday life! Next time you're asked at the cash till 'do you have a loyalty card? No? Would you like one?' maybe it's time to say yes! Do you have any favourite loyalty schemes? Get in touch.
Collette xx