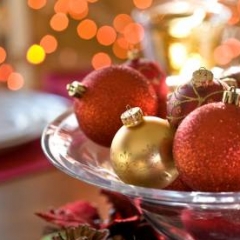 Christmas can be a stressful time of year so I have been looking to Feng Shui to inject some harmonious energy into my home.
These tips are easy to implement and promise a relaxed and happy environment. Give it a go and hopefully we can all fully enjoy the wonder that is Christmas...
1. Light some candles
According to Feng Shui, candles purify a space helping create a calm and peaceful energy.The glow from the lit candles can help soothe your emotional troubles or any feelings of anxiety and are best placed in bedrooms or on top of dining tables.
2. Burn essential oils
To enhance the Christmas mood and strengthen your home's Feng Shui use a diffuser to burn healing essential oils like warm cinnamon, rose and lavender oil. This will help you breathe in air associated with warmth, purification and harmony helping you feel less stressed.
3. Surround yourself with plants
For good Feng Shui you should have several real plants around your home or office. Plants have the healing essence of nature and help purify the bad energy in your home.
4. Position your tree wisely
Feng Shui practitioners advise you place your Christmas tree in the most auspicious Feng Shui spots of your home. East for Health and Family, Southeast for Money and Abundance or South for Fame and Reputation.
5. Stick to a colour theme
Decorate with a good Feng Shui colour theme. It is advised you bring the colours of fire into your home during Winter such as red, purple and hot pink. Make sure you balance your space with flashes of cooler colours such as soothing blue, cool silver and calm white.
Anushka x