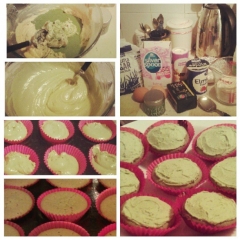 Matcha powder is full of antioxidants and boasts a ton of health benefits. This is our third blog post on how to use Charbrew Organic Matcha - enjoy!
My name is Rachel, I'm the developer at MagicFreebiesUK and I attempted to make some Matcha Green Tea fairy cakes...
I used a recipe from MatchaSource to create these yummy cakes. After coming to terms with the fact that everything was measured in cups, and after the tricky business of halving everything to ensure I didn't use the last of the Matcha, it wasn't too difficult at all. For help with conversions I used Exploratorium - I also set the oven to 180°C instead of 350°F.
Ingredients...
24 cupcake papers or 1/2 sheet pan / 350 degree oven
1 cup (2 sticks) unsalted butter, room temperature
2 cups sugar
2 large eggs
2 large egg yolks
3 cups all-purpose flour
2 teaspoons baking powder
1/8 teaspoon salt
1 cup milk
2 tablespoons matcha tea
For Matcha Buttercream Frosting
1 stick butter, room temperature
2 tablespoons half and half or light cream
1 tablespoon matcha powder
3 cups powdered sugar, sifted
How to do it...
Beat butter on high until soft, about 30 seconds.
Add sugar. Beat on medium-high until light and fluffy, about 3 minutes.
Add eggs/egg yolks one at a time, beat for 30 seconds between each.
Whisk together flour, baking powder, and salt in a bowl. Add to batter and mix to combine.
Mix matcha in with the milk. Add to the batter and mix until combine.
Scoop batter into prepared into cupcake papers.
Bake for 22-25 minutes until a cake tester comes out clean.
Instructions for the frosting:
Mix matcha in with the light cream to make a paste.
Beat butter briefly, scrape bowl.
Add the sifted powdered sugar and matcha paste. Beat until smooth.
Spoon on top of the cakes once cooled.
See the recipe at MatchaSource.
As a perfectionist/panicky cook the measuring of the ingredients was somewhat painstaking and by the distinct droop that occurred after removing them from the oven I'm not sure I got it quite right. At a guess, a very uneducated guess, I think the cake mix may have been a little too runny? Despite the appearance they tasted like cake! Woop! It went down very well in the office. Well worth a go! Very tasty!
Rachel x
Thank for doing a great guest blog post Rachel, we look forward to many more! - Colleen

Still want more matcha recipes? Try the following...