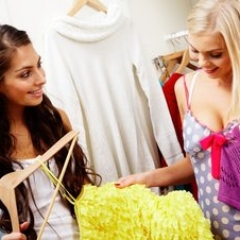 When was the last time you had a wardrobe clear-out?
I can't remember the last time I emptied out my wardrobe and drawers and now seems the perfect time to start. We've just finished summer (boohoo), so we'll have an idea of all those past summer clothes that have (ahem), shrunk in the wash.
There's nothing quite like a good sort out - with your satisfaction levels high and your wardrobe mess at an all time low, why not celebrate your achievement and host a Clothes Swap Party. It's a great way to make new friends, bag some free clothes and get rid of yours at the same time.
The lovely folk at Preloved gave me a chance to tell them how to do it, so why don't you check out How to Host a Clothes Swap Party for tips on how to organise your event.
Colleen x

P.S. For more great money-saving tips, check out our Save Money on Health and Beauty section.