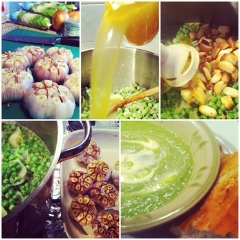 If you haven't picked up your free Yes Peas! recipe book then what are you waiting for?
One of my favourite pea recipes is Pea and Roasted Garlic Soup. It's a healthy and delicious soup and incredibly easy to make. If you're a fan of garlic you will LOVE the smell of roasted garlic filling your kitchen. Here's how to do it:
Ingredients:
4 heads of garlic
2 onions peeled and roughly chopped
50g butter
1 tbsp Olive oil
1 kg frozen peas
1 ltr vegetable stock
Sea salt and freshly ground black pepper
Crème fraîche and chopped chives to serve (optional, but advised!)

How to do it:
1. Wrap the garlic in foil and roast at 180°C for 40 minutes.
2. Fry the onion in butter and oil for around 3 minutes until soft. Add peas.
3. Add the stock and bring to the boil, reduce the heat and simmer for 5 minutes.
4. Bring the garlic out of the oven and leave to cool for 5 minutes. Cut the top off and (this is the fun bit), squeeze the soft roasted garlic into the pea soup.
5. Puree roughly.
6. Serve with dollops of Crème fraîche and chopped chives.
Enjoy!
Colleen x

P.S. Don't forget to pick up your free Yes Peas! recipe book and check out the yes Peas! Facebook page,