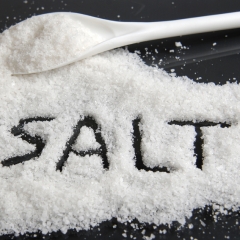 Did you know that as well as bringing out the flavour in your food, salt can help in other ways?
1. Clean your greasy pans.
Shake some salt onto your dirty pans before washing and the grease will be absorbed.
2. Keep windows frost-free.
Grab a sponge, dip it in salt water and rub the inside the inside of your windows with it. Hey presto - frost-free windows!
3. Get water marks off of wood surfaces.
Make a paste of salt and cooking oil, gently rub the paste onto the water marks with a sponge and let it sit for a few minutes. Wipe with a soft cloth and then polish the wood as usual.
4. Wash your veggies.
Make up a bowl of salt water and swirl your vegetables in it. The dirt will all be removed from greens like spinach and kale.
5. Control your bubbles.
If you have excess bubbles when you're washing up and want to get rid of them, sprinkle a pinch of salt over your washing up bowl and the bubbles will be banished!
Hope you like my salt tips...
Colleen x