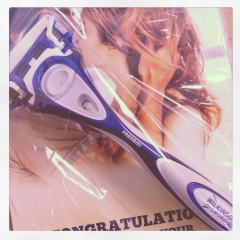 Don't irritate her this Valentine's Day...
Get a free Wilkinson Sword Razor and treat her to peachy-soft skin!
Just head over to the Wilkinson Sword Facebook page and enter for 1 of 22,000 free Hydro 5 Razors. Complete a quick form with your details, and choose what text you'd like to personalise it with.
This isn't the first time Wilkinson Sword have treated their Facebook fans to a free razor. We've received a few of these freebies over the last few months and they're always super-impressive.
For all the women freebie finders - how about getting one of these as a Valentine's Gift for your husband or boyfriend? It'll make an amazing gift and they're guaranteed to love it.
Get your free razor now!
Anushka x