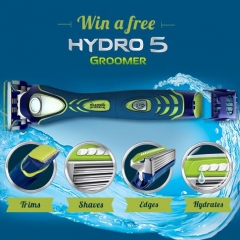 We all love a Wilkinson Sword freebie...
Today is no exception - you have the chance to win a free Hydro 5 Groomer razor - pretty great freebie huh!
In celebration of this brand new exciting product from Wilkinson Sword, they want 1,000 ladies of Facebook to choose a new look for their boyfriends.
Winners can expect a free grooming kit which includes:
1 x Wilkinson Sword Hydro Groomer
1 x Hydro 5 Transparent Gel
The Crossed Swords Style Society's Guide to Grooming
1 x Crossed Swords Style Society Tote Bag
Hurry - this offer ends on the 18th August. Enter now to bag a free Hydro 5 Groomer razor!
Enjoy,
Colleen x

P.S. If you like this, you'll love our Health & Beauty Freebie section.