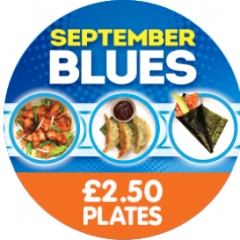 Upon scouring the internet looking for freebies I found this amazing offer from Yo! Sushi that cannot be missed.
To help chase away those September Blues you can eat 50 of Yo! Sushi's favourite dishes for just £2.50 each Monday to Friday from the 2nd to the 13th September.
You don't need a coupon or voucher, just bring yourself and enjoy the hot, cold, sweet and savoury delights from Yo! Sushi.

What are you waiting for?
Enjoy your delicious food!
Colleen x
P.S. For more great deals on food and drink, please check out our Restaurant Vouchers page.