Hey Freebie Finders! Sometimes it may take a while for your freebies to start flooding in. But don't worry, sit tight and wait for the postie to come. Check out the photos below to see the amazing range of freebies our members have received in the past. Happy freebie hunting!
Submit your photos
Got some great freebies to share? E-mail your photos over to us at: photos@magicfreebiesuk.co.uk
Past competition winners...
Maria M
£100 Boots Vouchers
Diana A
£50 Argos Vouchers
Charlotte B
£50 Amazon Voucher
Leighon R
£50 Amazon Voucher
Helen C
CK Messenger Bag
Emma H
iPad Mini
Stacey N
£60 Amazon Voucher
Mark G
Benefit Beauty Bundle
Denis L
Tefal Fresh Express
Chevaune S
iPad Mini
Kerry
Lush Bath Kit
Jan
Nikon CoolPix Camera
Phillippa R
Cadbury Hamper
Ben B
Retro Sweets Hamper
Christine P
Cadbury Christmas Hamper
Mark E
Kenwood Coffee Maker
Erica P
Molton Brown Gift Set
Barney F
Dolce Gusto Maker
Malcolm S
Xmas Party Kit
Edward R
Chocolate Fountain
Melanie A
Molton Brown Gift Set
Sharon T
Friends Boxset
Christine L
Love Etc Range
Want to be a winner? Enter our current competition below!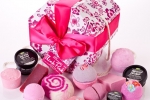 You can win a Think Pink Set from LUSH in our brand new competition.
Lift the lid on this pretty cherry blossom box to find lots of bathtime treats. This fantastic Bath Kit contains everything you need for top to toe pampering, including their signature bath bombs, lip scrub and foot lotion.
Good luck everybody, don't forget to tell all your friends to enter too!
Enter now »