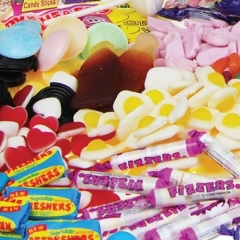 I'm as guilty as the next person when it comes to snacking. If any kind of food is within a 2 foot radius, I will be reaching for another piece / slice / portion every 3 minutes or so.
Unless someone actually physically takes the food away from me, I'll be eating until the food has all gone. I've recently found out what my cravings actually mean and I'd like to share them with you.
Bread
If you're craving bread you need nitrogen. You can find this in fish, meats, nuts, beans and other high protein foods.

Fatty Snacks & Fizzy Drinks
Wanting crisps? You're lacking calcium so tuck into greens, sesame seeds, dairy, legumes and mustard.

Sweets
Your body is calling out for chronium, tryptophan, sulphur and carbon phosphorus. This can be found in cheese, turkey, brocolli, sweet potato, fruit, beef, spinach and more.

Salty foods
Chloride is what you need - eat fish, unrefined sea salt and goats milk!

PMS
You need zinc. Get this from seafood, leafy and root vegetables and red meat.

Good luck with your cravings!
Colleen x