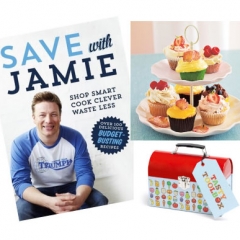 It's competition time at MagicFreebiesUK...
If you're a keen cook, you'll want to enter our brand spanking new competition to Win a Jamie Oliver Bundle.
The bundle includes:
Save with Jamie: Shop smart, cook clever, waste less - this amazing new recipe book will help you to save money, perfect for MagicFreebiesUK fans!
Tasty Toolbox - a lunch-box packed with the latest Kitchen Crusader story and recipes for the world's best packed lunch.
Better Cake Stand - show off your baking skills with this 1950s style cake stand.
Good luck everyone! Why don't you enter to Win a Jamie Oliver Bundle now?
Colleen x