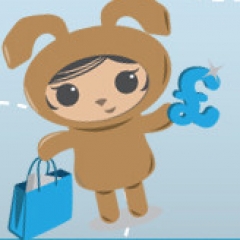 Want to hear some top tips? Read on...
Ditch the coffee breaks
Be honest with yourself, how many Starbucks, Costas and Neros are you drinking a week? If it amounts to two or more you're spending at least £6 a week - £24 a month which amounts to a whopping £288 a year! If you really can't do without your caffeine hit, invest in a machine which will save you money in the long run.
Take a packed lunch
Stop spending money on pre-packed sandwiches when you could probably have a week of lunches for the same cost as your typical lunch of sandwiches, crisps, apple and drink from your local supermarket! All it takes is a bit of forward planning and some shopping to get sandwiches made exactly to your taste.
Check out Freecycle for bits and bobs
You can't officially call yourself a Freebie Finder if you haven't checked out Freecycle at least once. You never know what local people are giving away and you could save yourself a small fortune. I've known plenty of mums to find some decent baby bits and bobs so why not check it out now?
Write a budget
A budget is a simple way to keep track of your money. All you have to do is list the items that you spend every month - travel, average food shop, going out, rent, utility bills and whatever else you have to use your money for. Tot it all up, check it against your income and you'll seen see if there are any problems with your in-goings and outgoings. Then choose which areas you can cut down on - for example that coffee break! - and adjust your budget accordingly.
Go coupon crazy
Check local newspapers, freebie sites, voucher sites and anywhere else you can find money off essentials. It's a good idea to keep a little diary of when coupons go out of date so you can keep on top of them.
I hope these tips help, have you got any others? I'd love to hear about them!
Colleen x